South Shore Divorce Mediation
Massachusetts Divorce Mediators
Amicable Resolution of Your Divorce
Getting divorced is never easy, but it doesn't have to be exhausting or crushingly expensive either. At South Shore Divorce Mediation, a Division of Lynch & Owens, P.C., we help you resolve for yourself the issues that a judge would otherwise decide for you.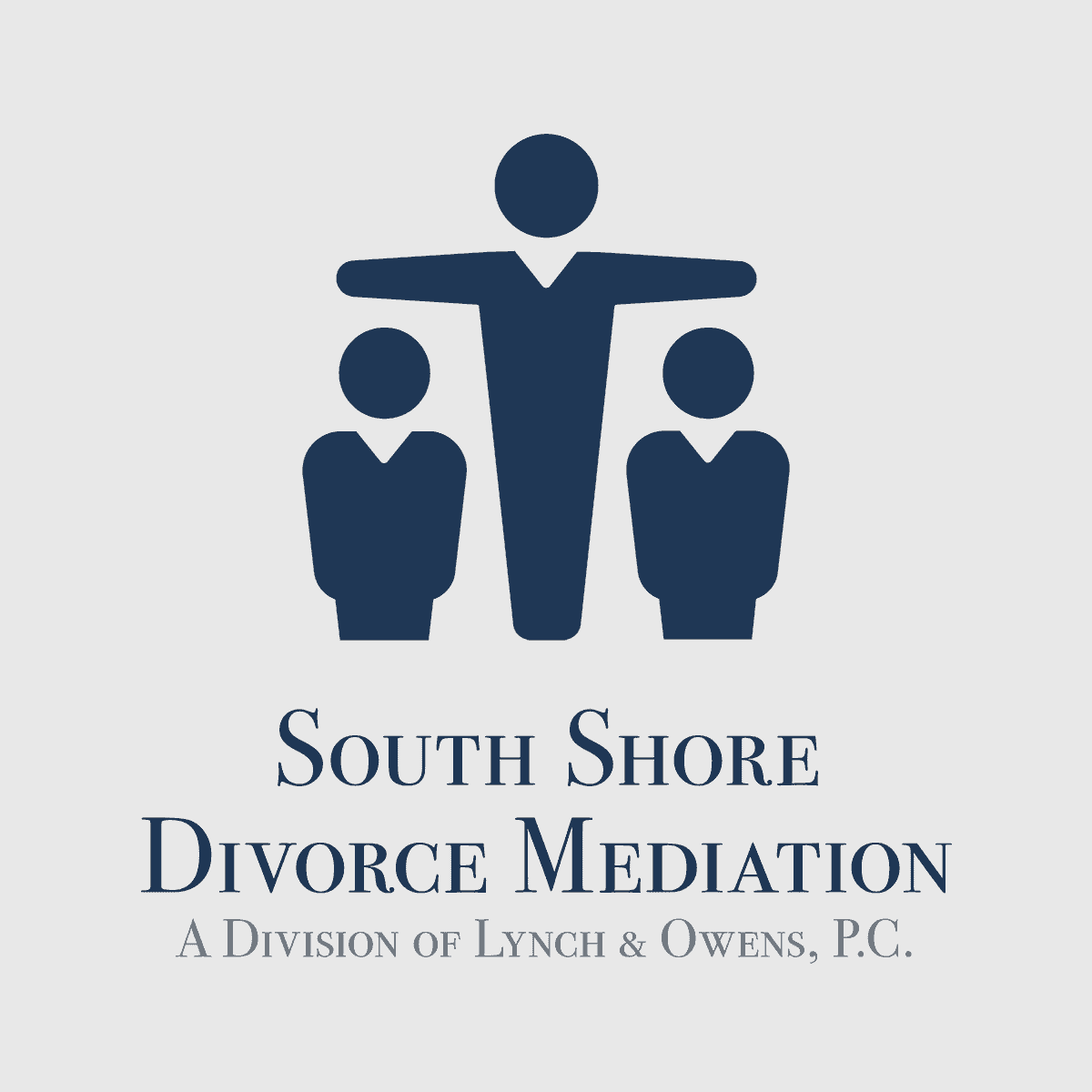 Our dispute resolution services include:
Our confidential process for divorce mediation (in accordance with Massachusetts laws) can help you avoid the stress and negative impacts of litigation, including court evaluations, confrontation with your spouse's legal counsel, and scrutiny of your family and resources. Our SSDM Mediators provide cost-effective services that emphasize cooperation and promote positive, workable post-divorce arrangements.
Coronavirus and Video Mediation with Zoom
With five mediators and a full support staff, we have the resources to schedule you for a mediation session as quickly as the same day that you contact us by phone or email. Our mediators use the Zoom platform to conduct video mediation. Zoom smartphone apps are available for free download at the App Store (iPhone) and Google Play Store (Android). Our video mediation sessions are secure and confidential. For individuals without internet access, we also conduct mediation by telephone conference.
---
Divorce doesn't need to be war. Take a different approach by speaking with a Massachusetts divorce mediator today. Contact Lynch & Owens, the home of South Shore Divorce Mediation, today at (781) 253-2049.
---
What Are the Benefits of Mediation?
We help couples and spouses take control of their separation. Unlike litigation, which pits you against your spouse and places your family's future in the hands of attorneys and judges, mediation lets you resolve your divorce on your own terms and with your family's specific needs in mind.
Divorce mediation can also help you preserve respect and good will towards your spouse, which is critical if you have children. When you choose mediation, it reduces conflict and stress, and helps your children survive the divorce process while minimizing emotional harm. Even if your marriage is coming to an end, you will both be parents forever. If you and your spouse both plan to be involved in your children's lives after your divorce, consider getting help from a mediation professional who is trained to help divorcing couples get great results despite their differences.
Learn about the Mediators of South Shore Divorce Mediation
Our dedicated team of Massachusetts mediators helps protect your family's happiness and financial future. Learn more about our mediators by following the links to read their professional profiles:
Mediation for Couples with Contentious Relationships
Even if you and your spouse have a strained relationship, divorce mediation may still be an option. Couples whose relationships have been characterized by infidelity, abuse, or other emotionally traumatic conflicts may assume that civil negotiation is impossible, but mediating the divorce process can help deescalate tension (as opposed to divorce hearings, which almost always serve to exacerbate it).
Despite the heated nature of couples' personal interactions, mediation sessions can be calm and productive with the help of our skilled professionals. Our professionals have the skill to ensure that a more aggressive or domineering spouse is not permitted to overpower or pressure the other during negotiations; at the same time, we rely on industry best practices to de-escalate negative emotions and reach consensus.
Our mediators understand high-conflict divorce – after all, they are also divorce attorneys. In the mediation context, our experience allows us to generate positive outcomes even when spouses have difficulty communicating.
How Does Divorce Mediation Work?
A divorce mediator facilitates the conversation between a divorcing couple. Both couples have a chance to discuss what they need to settle the matter. During the first meeting, the mediator will identify all of the issues to work through. In subsequent meetings, a strategy to handle all of these issues is carefully laid out.
The largest advantage of divorce mediation is how quickly the process be expedited in comparison to traditional divorce litigation. Some couples worry, "How can I possibly go through mediation when I no longer get along with my spouse?" The role of a mediator is to assist couples with the issues that cause tension and mitigate some of the heavy emotions that they may be experiencing. Eventually, couples in mediation find a way to work things through peacefully with their mediator's assistance.
How Much Does Mediation Cost?
Have questions about the cost of divorce mediation? Check out our Pricing Page for details on how mediation services are billed at South Shore Divorce Mediation and Lynch & Owens.
Mediation Coaching with Lynch & Owens
Are you already involved in divorce mediation? Consider retaining one of our mediation professionals for Mediation Coaching.
Divorce Mediation for LGBTQ Couples in Massachusetts
Our divorce mediators have the special knowledge and experience necessary to successfully handle same-sex divorce mediation. We understand the special issues that tend to arise concerning same-sex marriages and divorce, especially when it comes to parental rights and raising children. When you come to us for help, you can rest assured that your future and that of your family are in good hands.
The Differences Between Mediation & Arbitration in Divorce
Though both can be valuable depending on the particulars of a given divorce, mediation and arbitration are two different ways to resolve disputes and conflicts during divorce.
Arbitration is basically a private trial. This method is typically used when a couple knows they are destined to end up in court. When a couples opts for arbitration, spouses bring in a private judge to decide the terms of their divorce. This allows couples to have greater control over when hearings will be held and how fast their divorce will proceed. However, this preserves the unfortunately adversarial and combative nature of divorce by trial and, once made, a judge's decisions in arbitration are final and virtually impossible to appeal.
Mediation, on the other hand, is altogether different than going to court. Mediation allows both parties to avoid dealing with lawyers and the court system and instead focus their time, energy, and resources on resolving their disagreements in a way that promotes cooperation, positive outcomes, and agreement, where possible.
Our Mediators are Divorce Conciliators who Provide Conciliation Services
In addition to traditional mediation, our mediators serve as conciliators in divorce and family law cases. For more information on conciliation, visit our Conciliation for Divorce and Family Case Page and the Divorce Conciliation FAQ.
Check out the Massachusetts Divorce Mediation Blog & Mediation FAQ
Have questions about the divorce mediation process? Check out our Massachusetts Mediation Blog and our Massachusetts Mediation FAQ for more information.
Role of the Mediator
A mediator is an impartial third party that helps all sides reach an agreement. The mediator begins the conference, then speaks about the topic being discussed and supports the participants in coming up with solutions. It is critical for a mediator to be fair and unbiased. The mediator does not make the final decision. These terms are agreed upon by both sides. A mediator does little other than support the parties in voicing their viewpoints and responding to their disagreements in order to reach a compromise that addresses everyone's interests and aims toward a fair and satisfactory resolution. The outcomes are done by the participating parties themselves.
A mediator's key job is to make it possible for the sides to connect by the following:
Scheduling a meeting with the parties- once the mediator has been appointed, the mediator would arrange a date that is suitable for all participants.
Evaluate the mediation proceedings – at the first meeting, the mediator invites the parties to fill a document detailing the procedure's principles and guidelines. Then he moves on to clarify how the mediation hearings will take place.
He also encourages the parties to provide a short summary of the evidence from their respective points of view.
Take the Wheel. Don't Hand Your Life Over to the Court.
Spouses don't need to like each other to mediate their divorce. They only need to share an intention to avoid court, minimize costs, and get the best outcome without a fight. Mediation maximizes control over the divorce process for spouses who share this goal.
---
Learn more about the benefits of divorce mediation when you call South Shore Divorce Mediation and Lynch & Owens at (781) 253-2049. Discuss your case and learn how we can help you.
---
Dedicated to Client Satisfaction
"The communication from Lynch & Owen's was top notch."

The communication from Lynch & Owen's was top notch.

- Johhny B.

"She was prompt with responses, experienced with future issues that were avoided because of her expertise. I feel more confident knowing I have her on my side."

Nicole was exactly what I needed during my divorce. She was prompt with responses, experienced with future issues that were ...

- Megan C.

"Her knowledge and experience, coupled with her no-nonsense approach to client protection and upholding the law, made a stressful and trying situation much easier to understand and navigate through."

I highly recommend Attorney Nicole Levy with Lynch and Owens. Her knowledge and experience, coupled with her no-nonsense ...

- Susan D.

"Amazing professional and to the point. She's also a wonderful person and easy to talk to"

Amazing professional and to the point. She's also a wonderful person and easy to talk to

- John