Mediation Coaching & Consulting in Massachusetts
Attorneys Assisting Clients in the Divorce Mediation Process
Mediation Coaching is a form of legal representation in which an individual who is participating in divorce mediation hires an attorney to assist the individual during the mediation process. Also known as Mediation Consulting, the coaching process includes assisting the individual in preparing for mediation sessions, reviewing mediation goals and strategies, reviewing financial documents, and reviewing settlement proposals to ensure the individual's rights are protected. Unlike a mediator, who is acting as a neutral third party, an attorney acting as a Mediator Coach is loyal only to his or her client, and is focused on protecting the client's interests in the mediation.
A mediation coaches duties generally include:
Reviewing proposed divorce agreements and family law agreements prior to acceptance by client
Providing review and analysis of financial documents and financial issues to client throughout mediation
Developing negotiation tactics and strategies for clients to use in mediation sessions
Assisting with preparation and feedback before and after each mediation session
In most instances, an attorney serving as a Mediation Coach acts behind the scenes and does not directly participate in the mediation process. On occasion, if both parties are being advised by separate attorneys, a mediator will invite Mediation Coaches to participate in the mediation process or encourage the attorneys to directly negotiate with one another to resolve a specific issue. When selecting a Mediation Coach, it is important to select a mediation-friendly attorney. In general, it is Mediation Coach's job to provide services within the context of a successful mediation, and to engage in best practices to avoid disrupting or undermining the mediation.
Assisting the Process with Mediation-Friendly Attorneys in Massachusetts
As the home of South Shore Divorce Mediation, Lynch & Owens understands the mediation process. We know the last thing a divorce mediator wants is for a spouse to retain an outside lawyer who is hostile or uninformed about the mediation process. Because our lawyers serve as divorce mediators themselves, we understand how to coach, advise, and consult with mediation-involved clients without disrupting or undermining the mediation process.
Our goal is to empower our mediation coaching clients to succeed in their mediation. It is never our goal to disrupt or discourage the mediation process. Instead, we assist our client to work within the mediation while helping the client to articulate his or her goals and protect his or her interests. On those rare occasions when a divorce mediation breaks down, our attorneys are in a position to advise clients of their divorce and family law options, but in the vast majority of cases, our Mediation Coaching clients complete the mediation successfully.
Mediation Coaching Puts the Client in Control of Fees & Costs
Our initial retainer for Mediation Coaching/Consulting is $2,000. How that money is spent, or if it is spent at all, is up to the individual client. Some individuals who are engaged in divorce or family law mediation only use the Mediation Coach to review major proposals, such as a final Mediated Divorce Agreement. Other clients prefer a more hands-on approach, speaking with the Mediation Coach before and after mediation sessions, or asking the Mediation Coach to take an active role in preparing language for a mediated agreement.
The beauty of Divorce Mediation Coaching is that the client controls the pace and frequency of the attorney's workload. One client might conserve funds by asking the Mediation Coach to take a hands-off approach, while other clients treat the Mediation Coach as an investment in a stronger final agreement.
Either way, our Mediation Coaches are responsive to the client, not the other way around.
Anticipation & Reaction: How Mediation Coaching Works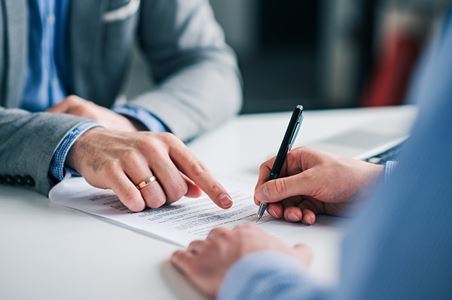 Our divorce attorneys are mediators. Our divorce mediators are attorneys. Our experience on both sides of the mediation table helps us coach clients to anticipate what will occur mediation process, and how to react in a manner that advances the client's interests. For us, mediation coaching is really a two-part process:
Provide the client with behavioral coaching that focuses on helping the client understand the mediation process, the mediator's role, and best practices for negotiating, advocating for oneself and reacting to the words and actions of the other spouse.
Provide the client with specific legal advice regarding the issues addressed in mediation, including child custody, child support and alimony, the division of marital assets and other family law issues being addressed.
At Lynch & Owens, we recognize Mediation Coaching clients must ultimately advocate for themselves within a mediation. Part of our jobs as coaches is to identify the skills and limitations of the client, so we can customize a strategy that best fits the needs of the individual client. Through role-playing and skill-building, we help clients develop the skills needed for a successful mediation. At the same time, we help clients achieve better long-term outcomes by analyzing their legal position and determining what constitutes a fair and equitable agreement under the facts of their case.
---
Seeking a Massachusetts Mediation Coach? Please give us a call at (781) 253-2049. We will consult with you and evaluate your potential claim after you call to schedule a consultation.
---
Dedicated to Client Satisfaction
"The communication from Lynch & Owen's was top notch."

The communication from Lynch & Owen's was top notch.

- Johhny B.

"She was prompt with responses, experienced with future issues that were avoided because of her expertise. I feel more confident knowing I have her on my side."

Nicole was exactly what I needed during my divorce. She was prompt with responses, experienced with future issues that were ...

- Megan C.

"Her knowledge and experience, coupled with her no-nonsense approach to client protection and upholding the law, made a stressful and trying situation much easier to understand and navigate through."

I highly recommend Attorney Nicole Levy with Lynch and Owens. Her knowledge and experience, coupled with her no-nonsense ...

- Susan D.

"Amazing professional and to the point. She's also a wonderful person and easy to talk to"

Amazing professional and to the point. She's also a wonderful person and easy to talk to

- John